LORDI Part Ways With Drummer Kita; Past And Present Members' STALA & SO. To Participate In 2011 Eurovision Song Contest
October 4, 2010, 11 years ago
Finland's LORDI have issued the following update:
"It is our unfortunate task to inform that (drummer) Kita (Sampsa Astala, pictured at left) is no longer a member of Lordi.
Kita has made a decision to pursue his own career publicly as himself, without his alter ego Kita. This is in direct conflict with one of the cornerstones of Lordi's image. Therefore it is not possible for him to continue as a member of the band anymore.
Lordi will continue as always, masked and costumed, consisting of monster personas. Also, the upcoming tour will happen as planned.
We thank Kita for the years he has been an important part of the band and our successes and wish him all the best in his future."

In related news, STALA & SO. (featuring Sampsa Astala on vocals, and former Lordi bassist Kalma - aka Nick Gore) will participate in the Finnish Eurovision Song Contest 2011.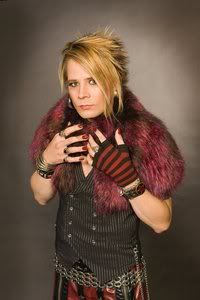 The jury from the Finnish broadcasting company, YLE, has invited the group to join the competition and they happily accepted the challenge.
The song nominee for the competition is a brand new Stala & SO. track, which will also appear on the group's upcoming album. YLE will release the song via it's websites and radio channels.
You can find more info about the competition from Yle's website (in Finnish) at this location.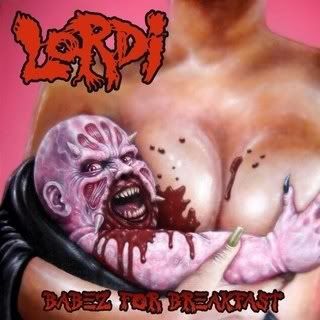 Lordi's new album, Babez For Breakfast, has entered the official top albums chart in the band's home country at #9.
Lordi's new song, 'Devil's Crashing The Party', will be performed in a musical in Finland. The heavy metal musical, called 1827 Infernal Musical, tells about the great fire in the city of Turku in the year 1827. The musical will be premiered in Turun Nuori Teatteri in Turku, Finland on January 21st, 2011. The new Lordi song, 'Devil's Crashing The Party', is previously unreleased. "It is interesting, that our music is suitable for theater world too," says Mr. Lordi.
Babez For Breakfast was recorded earlier this year in Nashville, Tennessee with producer Michael Wagener (METALLICA, OZZY OSBOURNE, ALICE COOPER) and features the following 15 songs:
'It's A Boy!'
'Babez For Breakfast'
'This Is Heavy Metal'
'Rock Police'
'Discoevil'
'Call Off The Wedding'
'I Am Bigger Than You'
'ZombieRawkMachine'
'Midnite Lover'
'Give Your Life For Rock And Roll'
'Nonstop Nite'
'Amen's Lament To Ra'
'Loud And Loaded'
'Granny's Gone Crazy'
'Devil's Lullaby'
Lordi's new video, for the track 'This Is Heavy Metal', can be viewed below.