RUNNING WILD - Back On The Jolly Roger With Captain Rock & Rolf Kasparek
May 4, 2012, 10 years ago
By Kelley Simms
While pondering the genesis of power metal, especially of the German decent, you have to include RUNNING WILD on your list. The Hamburg-based buccaneers have been roving the metal landscape for 30-plus years and are unequivocally the originators of pirate metal (yes, way before ALESTORM decided to inject a comedic slant to the genre). The majority of Running Wild's musical themes, stage costumes and album cover art are smothered in pirate imagery.
Guitarist/singer/originator Rock & Rolf Kasparek - Captain Rolf to you scurvy dogs - has steered the Running Wild ship virtually solo since its inception. He's had countless band members (more like hired hands) on board throughout the years, but there's no confusion that Rolf's in charge.
Although a band like Running Wild remains somewhat underground, you can't deny its history. And their albums refuse to go unnoticed, especially when a countless number of now-established metal bands cite Running Wild as an influence. Further proof of Running Wild's influence lay with several Running Wild tribute albums - three in the past seven years, more than actual Running Wild studio albums!
Except for 'Sailing Fire' and 'Riding On The Tide', the pirate theme has been somewhat abandoned on the 15th and latest release, Shadowmaker.
"I didn't make any plans of which direction the record should go," Rolf said. "But when I got the idea to do the album, I wrote the title 'Shadowmaker'. From the first track I knew it should be the title track because the title is really great. Shadowmaker is a new start ... the present heading into the future with no turning back on the past. This deals with the story of the Shadowmaker concerning old prophecies — when Judgement Day comes. He's a kind of debt-collector. A guy who would judge these kinds of people who did evil and would lose their soul. The Shadowmaker is a colorful character and that's why I chose not to use Adrian (official band mascot) for that."
Like any band with a long-standing tenure, Running Wild has had its ups and downs. After 2005's Rogues En Vogue, the band's temporary split-up in 2009 and its legendary farewell performance at Wacken, Rolf escaped from the predictable Running Wild formula.
"I really needed a break because the writing process for the last album was really hard for me. To write all those songs and get all the stuff together was a really torturing process for me. We started doing a side project called TOXIC TASTE, which was more punk and hardcore, '60s rock 'n' roll. We just did whatever we wanted. Throughout this process, I figured out that I really needed a break from Running Wild because I was writing songs at a totally different rate. I think in about three months it took me to write 80 songs for this kind of project. We started another project called GIANT X (with Peter Jordan) which we had to put down because of this production I did with Running Wild, the new one."
It's obvious that Rolf's passion for the band has returned. Shadowmaker consists of classic Running Wild trademarks. Rolf actually had no intention in writing a whole new album, but when he started, the songs progressed naturally.
"I didn't start it with a new album (in mind). The record company had the idea around 2010 to re-record some of the older stuff because the first three records, which originally belonged to Modern Music, are no more available. The rights now belong to Universal England and they're putting out these records again. The idea behind it was to just re-record some stuff, but they needed bonus material. The first one I was writing was 'Piece Of The Action'. It took me about ten minutes to write the song. It was too great of a song to use as a bonus. The second one was 'Riding On The Tide'. I said to the record company that the material I was writing came so naturally and was so strong that it can't be wasted as bonus tracks. So I wrote the full album. All the songs came about within a half an hour. The only song that took me longer was 'Dracula'. Everything came out like there was some kind of pressure built up over the last years and it just came out like that. It was back again, the passion to do this."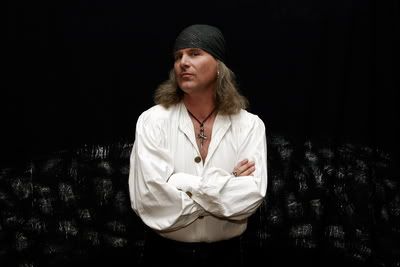 Usually after a band completes an album, you would naturally assume it would take the material out on the road, especially considering that Shadowmaker is Running Wild's successful comeback album. But Rolf and Running Wild have no plans to play live this year. They are, however, looking forward to penning their next disc.
"I immediately have to start with the next album because I really want to do a second album. I've got some ideas lying around, about five or six songs for the next album. But I don't have the time to work on that because I'm doing all the interviews so I have to put that away until they're all finished."
Until then, lets just enjoy the ride with Shadowmaker.