SLAYER Guitar Tech Armand Crump Passes - "It's A Sad Day To Lose Someone So Talented And So Young"
April 1, 2012, 11 years ago
On March 31st news came down that long time SLAYER guitar tech Armand Crump had passed away. Cause of death has not been revealed as yet. Numerous members of the metal world have offered their condolences since the news broke: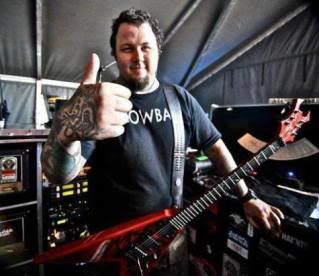 (photo courtesy of EMG)
Dave Lombardo: "Slayer and the metal road crew community is mourning the loss of a hard worker and dear friend Armand Butts Crump III. He was the best, he had to be to work for Kerry King. I'm going to miss him fucking with me from stage left. I still can't believe it. We are deeply saddened. RIP ABCIII."
EMG: "Slayer tech Armand Butts Crump passed away today. We don't have any of the details but our hearts and thoughts go out to the Slayer camp and all of Armand's friends and family. Armand was a really kick-ass guy and one hell of a tech... It's a sad day to lose someone so talented and so young. R.I.P. brother..."
Alex Skolnick (TESTAMENT): "One of the best guitar techs I've ever known, Armand Crump — whom I borrowed from my friend Kerry last year — has passed away. RIP AC."
Phil Demmel (MACHINE HEAD): "It's times like these when I realize how much I take for granted how lucky and blessed I am to have my health and the love of family and friends. My thoughts and prayers go out to Armand's family. The world is a darker place without you my friend, you will be sorely missed."
Michael Amott (ARCH ENEMY): "Just heard about guitarist Kerry King's longtime tech Armand Crump passing away. Great guy... Was always cool to see him. Very sad news. RIP"
GUNS N' ROSES: "We are deeply saddened by the tragic loss of our colleague and friend. Your spirit lives on! RIP Armand."
Andreas Kisser (SEPULTURA): "Fuck!!! Just heard about Armand!!! Man, this sucks big time, So sad. My feelings goes to Armand's family. RIP my friend...."
Rob Dukes (EXODUS): "I will miss you my friend. Me and John are gonna take our ride in your honor. You will be missed."