CANNIBAL CORPSE - New Global Evisceration DVD Teaser Clip
February 21, 2011, 11 years ago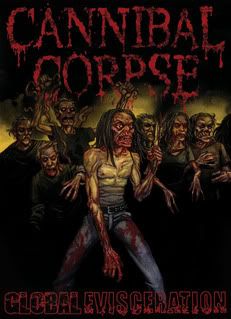 In conjunction with the release of CANNIBAL CORPSE's fourth DVD Global Evisceration on March 15, Metal Blade Records has teamed up with BraveWords.com to debut the next teaser clip featuring part of a live performance of the track 'Scalding Hail'. Check it out above.
Global Evisceration was shot and edited by director Denise Korycki (Wild Wind Productions) who also shot and directed Centuries of Torment – The First 20 Years (entered the Billboard Music Video Charts at #8 in its 1st week of release!) in addition to DVD's for bands like AS I LAY DYING, MASTODON, KILLSWITCH ENGAGE and SUPER JOINT RITUAL.
Global Evisceration contains one disc and is approximately three hours long with artwork by the infamous Vince Locke. The main program includes full live-song performances from two live shows: the Gothic Theater in Englewood, CO shot on 5/3/10 and Sunshine Theater in Albuquerque, NM shot on 5/8/10. Global Evisceration also includes bonus performances and extra segments including behind the scenes footage covering Evisceration Plague era tours.
Head over to the CANNIBAL CORPSE landing page here to check out the first video - an excerpt that didn't make the final cut featuring Jesse Jackson - the second video featuring part of a live performance of Stripped, Raped and Strangled, and to check out preorder options for Global Evisceration.
Package #1: Global Evisceration DVD
Package #2: Global Evisceration DVD + Comic Book/CD Version (while supplies last)
For more info visit Cannibalcorpse.net.